Kevin Horton
General Manager
RJ Youngman
Sales Manager
RJ, like many of us, began his love for bikes when he was just 3 as a passenger and then moved on to dirt bikes. When he's not helping to fit his customers to their perfect dream ride, he's spending time with family or riding his own Harley. Little know fact about RJ is that he is a amatuer curler seeking his Olympic dream and owns the entire Conway Twitty's Greatest Hits on 8-track! Stop by and say "HI" to RJ!
Paul Seal
Business Manager
Paul started at Richmond Harley-Davidson in December of 2018. He first became interested in motorcycles at the tender age of 4! His mom was dead set against it but his dad really wanted him to ride. His dad convinced her if Paul got one when he was really young he would "get it out of his system" and not want to ride when he was older. And now, years later, not only does he still ride but he works at the BEST Harley-Davidson dealership! Jokes on you mom! When he's not at work you can catch him riding his Road Glide or hunting and fishing.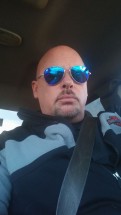 Lowell "Dino" Ditmore
Business & Sales Manager
Dino started riding when he was 6 years old and has been riding around on bikes for 45 years. He loves spending time with his two sons at the beach. He also spends a lot of time shooting pool and is a big supporter of local music. Dino has been working for Harley since February 2000!
Greg Perkins
Motorcycle Sales
Greg can't remember a time he wasn't interested in bikes (age can do that Greg ;) When he's not pairing up the perfect bike with his customers passions he spends time riding, fishing, camping, and spending time with family & friends. Little know fact about Greg is that he has a pet 2-toed Sloth named "Speedy" and enjoys winter badminton. Stop by and say "HI" to Greg!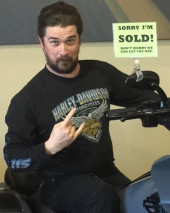 Will Jennings
Motorcycle Sales
Monica "WIldfire" Fields
Sales Consultant
Monica started working at Harley-Davidson in 1999, and moved to Richmond Harley-Davidson in Decembre 2018. Monica first became interested in motorcycles at the age of three when she would have her daddy take her for rides around the yard. She likes to travel on her motorcycle, going to the West Coast and visiting family.


Cindy Jernell
Inventory Manager
Jane Cornell
Marketing & Promotions Manager
Jane is the marketing manager and events coordinator. Jane's background is in graphic design & bar tending, and loves throwing a good party. She has one rescue greyhound, two Persian cats and way too many house plants. One day she'll have a Harley of her own, but for now her other ride is a unicorn.


Petra Brown
General Merchandise Manager
Petra is our General Merchandise Manager. She's been intrigued with bikes since she was a little girl and enjoys riding her Harley whenever she can. She is also a former professional musican and loves jamming and going to live concerts.

Little known fact about Petra is that she is semi-professional Bull Rider. Stop by and say HI to Petra!
Ashley Ganzert
Team Lead/Assistant Manager
Ashley started at RHD in November of 2018, which is when she first became interested in Harley-Davidson. She enjoys spending time with her 2 boys, singing karaoke, swimming, tanning and eating!


Rachel "Ratchcet"
General Merchandise Associate
Rachel is a full time student and enjoys long walks on the beach while watching foregin films from Netflix.

She first became interested in motorcycles at an early age because of her Harley fanatic father.

Little known fact about "Ratchet" is that she has a large worm farm in her swank apartment in Richmond and is quite the accomplished Salsa Dancer. Stop by and say Hi to "Ratchet!"
Andee
General Merchandise Associate
Andee joins our Team here at Richmond HD with plenty of Harley experience. She became interested in motorcycles as a teenager a VERY long time ago. Her whole family rides! When she is not working she enjoys Camping, Bike Rallys, Good Music and Cow Tipping.

Andee also enoys spending time with her USMC son when he is home on leave.

Little know fact about Andee is that she was a back up dancer for Boy George and has a pet Raccoon named Bandit. Her FAVORITE song of all time is Britney Spear's "Toxic!"

Stop by and say HI to Andee!
Desiree Griffis
General Merchandise Associate
Desiree started in January of 2019. She grew up around bakes and has always had a passion for them. She enjoys spending time with her family and friends, and riding around with the top down on her Jeep!


Sammy Steigman
General Merchandise Associate
Motorcycles remind Sammy of her grandpa who has been riding them since she was born. When she's not at work, she spends her time working on art, creating personal pieces for clients and pampering her cat!


Bubba Burnette
Parts Associate
Bubba started out on dirtbikes at 6, went to his first street bike at 18, and stepped up his ride at 28 with his 1st Harley. When Bubba isn't helping his customers customize he's spending time with family, anything outdoors, loud & fast!


Tanner Browne
Parts Associate
Tanner joined the Richmond Harley-Davidson team in June 2019. When Tanner was 5 years old he was asked in class what he wanted to be when he grew up and his answer was 'a motorcycle rider.' He spends most of his free time on two wheels, either riding or working on his motorcycle or bike.


Daryhl Cheek
Part-Time Service
Daryhl discovered his love for motorcycles in 1978 and has been riding ever since!


Nik Krupicka
Master Technician
As a youngin' Nik has always been around dirt bikes, his family comes from a long line of mechanics, they love the Poker Runs and when Nik has free time he spends it with his 2 boys - Thor & Waylon, family, and his '98 FLHTCUI


Damion Thompson
Service Writer
Damion joined us at RHD in November of 2018. He took a small engine repair class in high school which sparked his interest in motorcycles. He attended the Motorcycle Mechanics Institute to learn about Harley-Davidson, Kawasaki and Suzuki. Damion likes to play video games and watch videos about car and motorcycle builds.


Brandon Franciscus
Detailer
Brandon started at RHD in November of 2018. He first became interested in motorcycles while in the military. When he's not at work he enjoys hunting, fishing, cooking, reading and listening to music.


Gary Busic
Service Manager
Gary became interested in Harleys in 2000. When he's not at work he enjoys spending time with his family. Gary worked at Richmond Harley previously in 2000 - 2014.


Ema Rayne
Service Writer
Ema first got into motorcycles when she was 10 because her uncles are bikers. When she's not at work she's always turning wrenches with her team! They're always working on something now. Ema is currently undergoing training to start professional drifting!
Krystle Murr
Warranty
Krystle became interested in motorcycles when she was 19 years old. She loves hanging out with her son, going to the beach, hanging at the pool with her friends and going out on the bikes! Krystal would love for you to come say hey next time you're in the dealership!